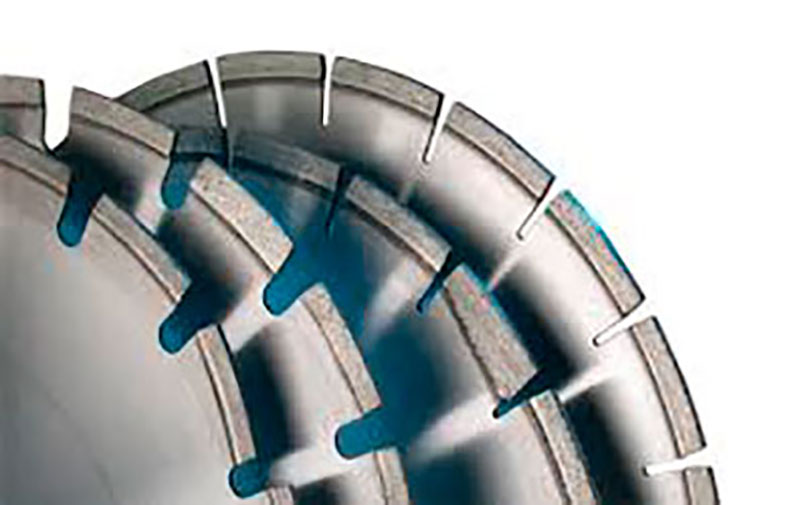 Blade problems. Choose the right Diamond Cutting Blade and cutting discs for your circular saw, cut-off machine.
There are a few key points to bear in mind when selecting a diamond cutting blade, but probably the single most important point is to use the correct blade for the material you are going to cut.
There are several factors that can lead to a diamond cutting blade wearing out prematurely. These include not selecting the right blade for the job, the RPM or speed of the blade and inadequate water flow or improper use of dry cutting blades.
To get maximum the life from a diamond cutting blade it is important to select the proper blade for the application. For example, using a cured concrete blade in abrasive materials such as green concrete or asphalt will cause the blade to wear out prematurely or using a high speed saw blade on a walk behind saw will also lead to short life. check out our application chart before you buy
Another cause of short blade life is improper blade RPM. Diamond saw blades are designed to run at a surface speed of 11.000 feet per minute. A blade run at a lower than recommended RPM will act softer and wear faster. Inadequate water flow on a wet cutting blade will also lead to short life. Water not only acts as a coolant, but it flushes the fines out of the cut.
Before you buy
Identify the material that is to be cut and the application you want to carry out, cutting, drilling, grinding or polishing. Global Diamond Tools offer a range of blades and accessories that are suitable for a range of materials.
If a diamond cutting blade is to be used to cut more than one material, for example, concrete blocks and asphalt, then determine which material will be cut most often and buy a blade suitable for that material.
Once the correct type of diamond cutting blade has been identified you can be confident that Global Diamond diamond cutting blades offer the highest quality at true trade prices.
Our diamond cutting blades cut faster, smoother and more efficiently than cheaper imported blades and offer a longer service life, which means they offer better economy and value for money than cheaper blades.
It's important you choose the correct blade and manage its use. Better quality blades are quite specific in the range of materials that they will cut. If you're cutting a lot of one type of material, always try to choose a blade that is designed for that particular material, remember general purpose blades always compromise on service life and cutting speed or both.
If you're unsure which blade to choose, a diamond cutting blade for granite, or a diamond cutting blade for concrete, or a diamond cutting blade for metal contact Global Diamonds for advise as to which blade is most suitable for any particular job or material.
Call the Global Help Desk on 01562 888488