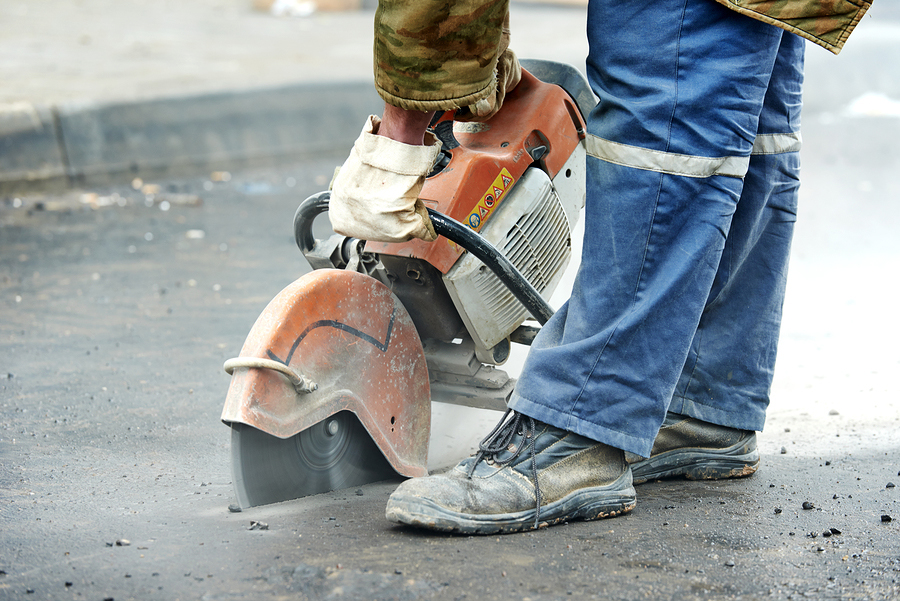 Cutting with cut-off Saws – Wear good quality respirators.
Every day landscapers and construction workers use petrol driven cut-off saws (disc cutters) to cut slabs, bricks, block paviours, roofing tiles and a host of other materials. Natural stone and concrete materials used in landscaping and construction contain Silica, and in some instances the material can be up to 90% Silica (Sandstone as an example).
Silicosis is caused by Silica dust and is one of the main causes in the Construction and Landscaping industry of Cancer and COPD (Chronic Obstructive Pulmonary Disease). These conditions are irreversible and ultimately fatal. Once Respirable Crystalline Silica (RCS) is in your lungs it remains there, slowly and progressively damaging the lungs and reducing the transfer of oxygen into your blood.
Dry- cutting stone, concrete or brick using a petrol cut-off saw (disc-cutter) or electric grinder will generate dust which is the main source of exposure to Respirable Crystalline Silica.
The Health and Safety Executive believe dry-cutting is an extreme hazard and failing to take adequate action to protect the operator is illegal.
Global Diamond sell the best quality Diamond Cutting blades, we have a range of blades that make cutting slabs, bricks and blocks quicker and easier. But we can't emphasise enough the need to ensure you operate your equipment safely using the right blade and importantly wearing the right safety equipment, particularly a good quality face mask or respirator.  If you're not sure which blade is right for the job in hand then talk to one of our technical team. Be sure, be safe, use Global Diamond Blades.