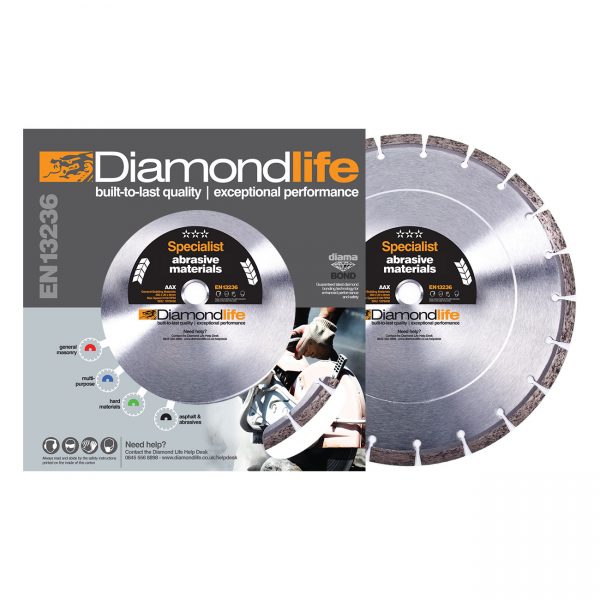 Specialist Range AAX
Arguably the best performing diamond blade in its class, using all the elements of the Premier range product, but with enhanced diamond content and modified bond to give additional life and speed of cut.
If meterage and speed are important this diamond blade will provide both.
Abrasive Materials
| | |
| --- | --- |
| Recommended | Gritstone – Sandstone – Asphalt over Concrete – Breeze Blocks – Thermal Blocks – Uncured (Green) Concrete – Asphalt |
| | |
| --- | --- |
| Acceptable | Concrete Block Paviours |
Because asphalt is softer than surfaces like concrete, or granite, soft bonded blades won't be effective and typically don't result in clean cuts. Instead, the best tool for asphalt cutting is a diamond life blade with a hard bond. This harder blade cuts cleanly, and easily releases grit.
Use the right blade for the job. There are blades designed specifically to cut concrete, masonry and green concrete. While general-purpose blades can cover a variety of cutting tasks, application-specific blades are engineered with a specific bond to meet the needs of a certain application. They do the best job and will last longer,
Diamond Life Cutting Blades – Built-to-last quality – Exceptional performance – Low Prices