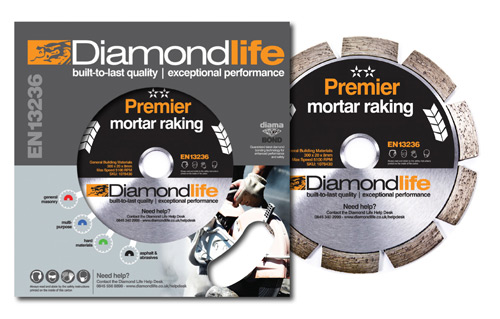 Mortar Raking
The MRP Mortar Raking diamond blade makes short work of preparing brickwork joints for repointing
Repointing external brickwork is the best way of weatherproofing your walls, preventing internal as well as external damage.  At the same time it can dramatically improve the appearance of the building, ultimately affecting the value and "curb appeal" of your property, with different mortar types and pointing styles available to suit the aesthetics of the building.
Worn and damaged pointing is not only unsightly, though.  Loose and decaying mortar allows water to enter the joints, and can damage the bricks themselves, which can affect the structural integrity, as well as the appearance, of the wall.
If old mortar is allowed to crumble, rainwater can seep into the joint resulting in expensive damage, such as unsightly damp patches and blown plasterwork inside the building.
The removal of mortar can be achieved by using a hammer and chisel, but this can take hours of painstaking work before the brickwork is sufficiently prepared for the new mortar and using the right tools can cut down the preparation stage considerably.  Whilst this looks like a simple job, it requires skill and precision to get it right, as well as tools which are designed specifically for this time-consuming job
The MRP Premier Mortar Raking blade from Global Diamond Tools features laser-welded 6.4mm wide segments which significantly reduce the time and effort required.  This blade,, for use with an angle grinder, produces smooth, clean cuts to the mortar joint, enabling the operator to create a neat finished effect in the shortest time possible.